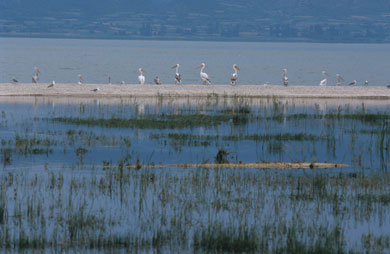 Lake Doirani
The lake Doirani is located on the border between Greece and FYROM and its size is 42.8sq.km, 15.6sq.km of which belong to Greece. The water comes from several small streams that end up in it. At the village Doirani, right on the shores of the lake, visitors can go fishing all year long. In the area there is also the monument of the Doirani battle as well as many other sights. There's also the Museum of the Lake Doirani, which is built right next to the lake. The place is very peaceful and the sunset is breathtaking, since the sun sinks into the lake and the water turns red. Thanks to the crystal clear water, the lake is ideal for fishing all year round. There are about 18 fish species in the lake, like carps, spirlins and perches, as well as 36 bird species, like the pygmy cormorant and the Dalmatian pelican, which are both endangered.
On the location "Chilia Dendra" (=a thousand trees), in the forest of Mouries, 4km north of the village of Doirani, lies a beautiful recreation site, in the centre of an old oak tree complex. The forest has been declared as a Preservable Natural Monument and, along with a small part of the lake, it is nominated to be included in the Natura 2000 network. There are also many hotels and restaurants in the area.
The centuries old oak trees between the lake and the mountain have created the natural monument. When moving higher, visitors can enjoy the view of an about 100m tall waterfall, near "Kato Sourmena", a settlement in Mouries. The rich vegetation including centuries old plane trees, maple trees and manna ashes, creates an idyllic scenery. Moving farther towards the borders there are regions on Mount Belles that are ideal for hunting. The higher you go, the thinner the vegetation is, and as the eagles keep increasing, you can see the pyramids that mark the northern borders of Greece.